by Jason Norris, CFA Executive Vice President of Research
A currency crisis in Turkey and continued trade uncertainty resulted in a volatile week for equities. International stocks, specifically emerging markets, started selling off. U.S. commodities were also weak. This was offset by positive news on the China trade front. Overall, our view of U.S. economic growth and the markets haven't changed in the last week; however, we do acknowledge increased investor concerns regarding increased global uncertainty.
While we remain tilted toward global growth, we have maintained a large overweight in the healthcare sector. We believe this offers solid long-term growth, with less risk on the trade side. This has played out over the last several months, when comparing healthcare performance to the S&P 500.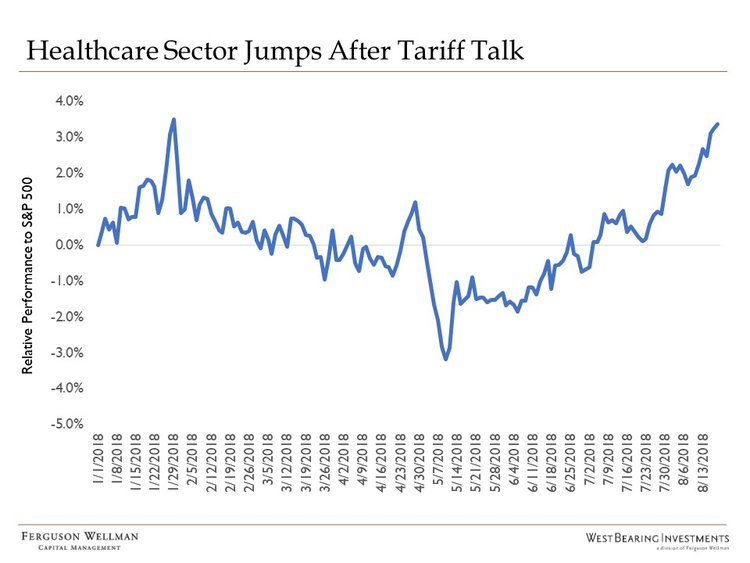 Source: FactSet
As trade concerns started heating up in May, healthcare rose considerably, outperforming the S&P 500 by over 6 percent. Other investors are starting to notice, as seen in fund flows into ETFs over the last seven weeks. The healthcare sector ETF has received $1.4 billion of inflows─more than any of the other S&P 500 sector ETFs.
To date, there haven't been any announcements regarding tariffs on drugs or medical devices. With healthcare stocks more attractively valued than the overall stock market, favoring this sector continues to make sense.
While there are risks, specifically with regard to drug pricing, we believe they are manageable and discounted in valuations. The second potential risk we are monitoring in the news regarding healthcare is Amazon's strategy to enter more areas of the market. While this may affect some companies, such as pharmacies, we believe this is more headline noise than a fundamental issue affecting the sector.